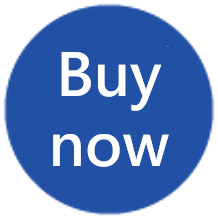 One computer is not enough?
You have better options than buying two physical computers!
Having your own super Cloud PC is more than just backup,
as it offers the highest cost-performance.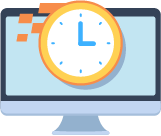 Slashers love "Super Cloud PC"
Best choice for entrepreneurship
Whether you are a copywriter, running your own media business, or have temporary content production needs, choosing "Super Cloud PC" allows you to easily expand with flexibility, minimize time and costs and win at the starting point!

Automatic computer file backup. Time-saving and effortless disaster recovery.
ASUS Secure Auto-Backup ASUS Secure Auto-Backup helps you automatically backup your files daily, so even in the event of a virus attack, you can instantly restore important data!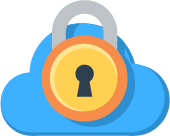 First-line security and protection
Eliminate cybersecurity threats
ASUS Secure Auto-Backup incorporates ransomware detection, military-grade encryption and TWCC's multiple national-level cybersecurity protection mechanisms to safeguard critical data at every stage. Avoid personal data leakage and fully protect your privacy!
Get a personal Super Cloud PC for free with your purchase
and quickly own a flexible personal digital asset.
Exclusive for ASUS WebStorage members
ASUS Secure Auto-Backup + TWCC Taiwan AI Cloud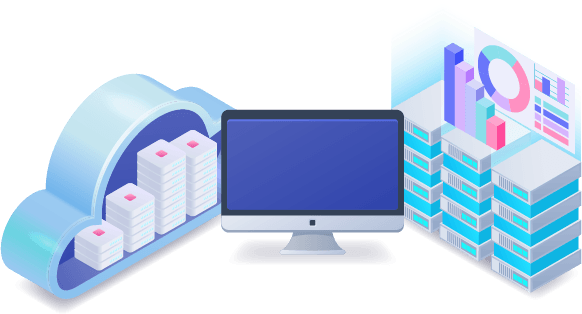 From today – 7/30 limited-time offer
Purchase 3PC/ 3TB/ 1-Year ASUS Secure Auto-Backup US$179.99
Free TWCC CPC Super Cloud Computing credit included US$179.99
Limited Price

US$169.99
original price US$359.98
TWCC Cloud PC
Easy start with just one-click
With TWCC Cloud PC, you can directly access your data on WebStorage Drive and run your programs and applications from remote desktop. It provides the optimal virtual environment anytime, anywhere according to your needs and preferences, and offers you limitless possibilities for innovation with security and speed!

No Physical Machine
Virtual PC does not take up physical space, so you no longer need to worry about damage or depreciation.

Friendly Interface
Simple interface for easy use and setup.

Safe And Fast
International cybersecurity for peace of mind, high-bandwidth network for fast transmission.

Flexible On-Demand Usage
Shut down and restart as you like, pay-as-you-go and flexible billing.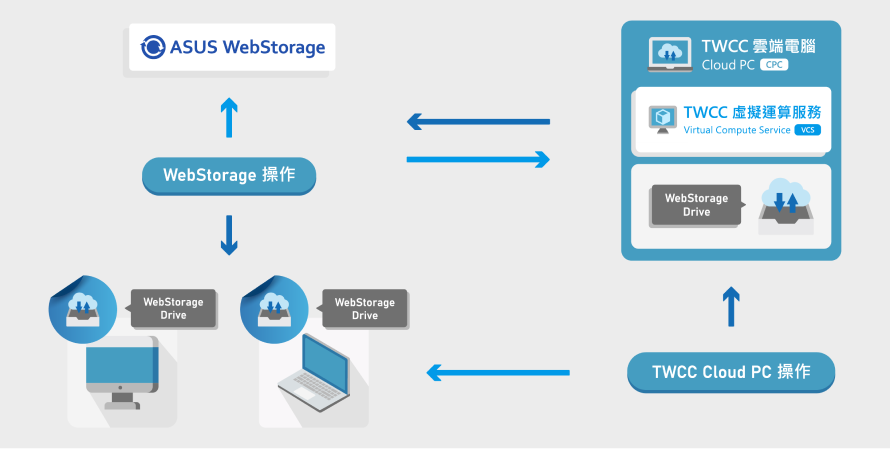 First choice for personal cloud backup.Intelligent management of Cloud PC.

Backup Comparison
Incremental differential design to enhance system performance during automatic backup.

Ransomware Protection
Real-time monitoring to block ransomware threats at the first sign of malicious behavior.

One-Click Restore
Exclusive retrospective data reorganization to allow full data restoration based on selected time points.

TOP20 Supercomputer
Global green energy supercomputer, national high-standard disaster-resistant infrastructure, and support for cybersecurity auditing and certification.
Rankings published on November 13, 2018.

One-Click Start
Fast cloud deployment service. Virtual PC created on-demand according to personal needs, with the ability to mount virtual disks as needed.

Flexible Pricing
Pay-as-you-go billing by the second, only pay for what you use. Stop at any time, with no termination fees.
Product Specification
Product Name
Cloud PC(CPC)
Operating System
Windows Server 2019
Hardware Specification
v2.super (2 CPU + 4GB memory)
Virtual Disk
System Disk (200GB HDD)
Pre-installed apps
WebStorage Drive
Purchase now to enjoy an efficient digital work environment.
New Customer Exclusive
3PC/ 3TB/ 1Y ASUS Secure Auto-Backup US$179.99
Free TWCC CPC Super Cloud Computing credit US$179.99 included
Limited Time US$179.99
original price US$359.98
50% minimum discount
Friend Upgrade
Add-on TWCC CPC credit US$179.99
Limited Time US$134.99
25% cashback
FAQ
1.1. This is a special promotional product with a 14-day evaluation period (the evaluation period starts one day after the activation code is sent). If the TWCC CPC credit has not been activated or if the credit has been activated but not used, a full refund will be issued unconditionally. If the credit has been used, a refund will be processed based on the proportional usage, and new order can still be accepted. ASUS Cloud and TWCC reserve the right to modify or terminate the event.
2.1. Yes, to purchase the [New Customer Exclusive] plan, you will need to use the [Register New Account] option to create a new ASUS Cloud account for cloud storage usage.
2.2. You can also purchase the [Friend Upgrade] plan, and purchase TWCC OneAI credit separately.
3-1. TWCC The TWCC credit voucher code will be sent to you via E-mail, Please refer to the user manual or instructions provided to complete the redemption process.
3-2. TWCC The redemption period for the TWCC credit voucher code is until October 31, 2023. Any redemption attempts made after this date will be automatically invalidated. Please note that no extensions or replacements will be provided. We kindly remind you to complete the redemption process within the specified period.
4.1. The pricing is NT$2.5 per hour (excluding taxes), billed in a flexible mode by the second. You don't need to worry about being charged for a full hour if you use less than an hour.
5.1. This product is a bundled package, which includes 3PC/3TB/1-year ASUS Secure Auto-Backup cloud storage and TWCC OneAI credit. If a return is requested, all items in the bundle must be returned together. It is not possible to return only one item from the bundle. When your return application is successfully accepted, the usage rights for the 3PC/3TB/1-year cloud storage will be revoked; the remaining balance of your TWCC OneAI credit will no longer be usable.
5.2. If the TWCC OneAI credit has not been activated or if it has been activated but not used, a full refund will be issued unconditionally.
5.3. If the TWCC OneAI credit has been used, a refund will be processed based on the proportional usage of the remaining balance.
5.4. Total refund = Purchase amount × (Remaining balance/Total usable balance) × 100%
5.5. To view your personal TWCC credit usage information, please log in to your account and refer to:
https://www.twcc.ai/user/dashboard
. For the actual remaining balance, please contact the TWCC customer service hotline: (02)8979-6199 or email
service@twsc.io
.
5.6. If you have a return request, please fill out t
he problem reporting form
and select "Cloud PC Promotional Product" under the "Problem Category" and "Refund Request (within 14 days of purchase)" under the "Problem Item".[TWCC Cloud PC商品] After submitting the problem reporting form, you will receive a refund application form. Please make sure to provide complete information on the form. Incomplete information may affect your eligibility for a refund.
Through the national-level supercomputers and TWCC cloud platform, we provide the largest, safest, most efficient, and accessible AIHPC (AI High-Performance Computing) green computing power and diverse cloud solutions in Taiwan. In the era of AI 2.0 and digital transformation, we bring unlimited possibilities to your AI intelligent applications and business innovations!
more about TWS